I- RISE
Preamble
Proposed by – Prof. P.M. Deshpande, Director (P)
Concept– An undergraduate level project competition/exhibition (I-RISE) to be conducted in the month of February every year. The notion is to encourage & involve students into interdisciplinary approach to identify and solve live problems that concern the industry, to develop team work culture, to enhance practical skills of students and to integrate, interface multi-faculty approach in finding industry relevant solutions.
Aims
To arrange a PROJECT COMPETITION cum EXHIBITION to encourage an interdisciplinary approach to solve real world problems of society and industry
To promote interaction with academicians & industry experts
Objectives
To provide technical platform for undergraduate students
To promote creativity & sharing of innovative ideas
To motivate  students for learning new technologies
To be able to apply the technical knowledge to solve real world problems that are useful for the society
To improve presentation and soft skills
To design efficient systems that can provide solution to engineering problems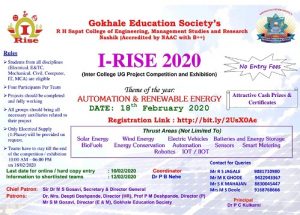 Click here for Registration.